Would You Like To Communicate Better?
A Word from the Family
When my father began printing in our one car garage in 1966, who would have guessed all his hard work would soon become one of Murfreesboro's most blessed companies. I was proud to pick up the baton in 1982, and feel blessed to work with my son, Weston Wax, as he directs our sales team. We give God the glory and we give you, our loyal customers, our heartfelt gratitude.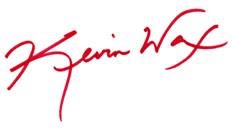 Design
Design is in our DNA. We bring a talented team of designers with years of experience to the table, ready to provide expert and well-crafted design solutions.
Print
Family is our middle name; print is the one word that sums up all we do. Traditional and digital presses anchor our equipment capabilities. What can we print for you?
Signs
Our brand new machines produce the highest quality signs. Our expert team is fully equipped to help you with all your interior or exterior signage needs.
We help our clients communicate
clearly from concept to completion
What Our Clients Say
We've been blessed to work with thousands of satisfied clients over the years.
Click here to see more testimonials!
They make their clients feel like family. They take you personally. We have never felt like just another customer. Wax Family Printing genuinely cares about our organization and they consistently ask, "How can we serve you?" "What can we do to help you?" We don't consider them a vendor, Wax is a true partner in our organization's mission. We appreciate their team so much!
Courtney - Wax Family Printing Client
When the launch of our organization was unexpectedly moved up from October to August, the team at Wax Family Printing was a lifesaver! We had very tight deadlines and much content to build to market our first event, yet they were able to deliver a high-quality product in LESS time than promised. Their professionalism went beyond good business to one of advocate and partner. I can wholeheartedly recommend Wax for any printing or marketing needs you may have.
Renée - Wax Family Printing Client
The personalized attention that is given to each project expresses the overall desire of this company for outstanding quality assurance to its clients. You know that you are in good hands with WAX when they are managing your print sources. There is a "kindness" exemplified even in those who make the deliveries to our office, that you don't normally experience.
Marilyn - Wax Family Printing Client
---
Sign up to receive Business Savvy (our free quarterly newsletter publication)!
Yes, Please!
SIGN UP FOR BUSINESS SAVVY.
Stay in the loop with our awesome newsletter. Share your information and we'll send one your way!